Hosen, Röcke, Handschuhe in London
Veröffentlicht am
today
24.02.2012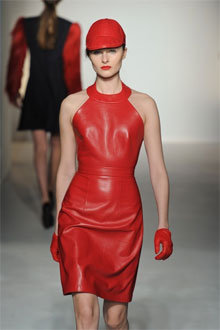 House of Holland. (Pixel Formula)
London (dpa) - Geht es nach den Designern der Londoner Modewoche, dann bleiben Hosen meist schmal geschnitten und in Zigaretten-Form. Häufiger sind Vorder- und Rückseite aus unterschiedlichen Materialien, etwa
Leder
oder Tweed. Bei Kleidern geht beinahe jede Länge: ultrakurz, das Knie umspielend, und auch lang und wallend. Röcke sitzen häufiger auf der Taille und haben schwungvolle Ballerina- oder aber Bleistift-Form.
Lederhandschuhe bleiben den Präsentationen zufolge auch in der Herbst-Wintersaison 2012/2013 Bestandteil eines trendigen Outfits. Auch sie werden in allen Längen gezeigt. Bei
Henry Holland
von «House of Holland» etwa sind sie so kurz, dass sie nicht mal bis zum Handgelenk gehen. Bei Marios Schwab reichen sie im Audrey-Hepburn-Stil bis zum Ellbogen. Pringle of Scotland nutzt sie, um klassischen, zurückhaltenden Outfits Farbkleckse zu geben.
Copyright © 2019 Dpa GmbH